Daily Fantasy Sports in Arkansas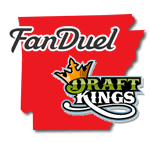 Daily fantasy sports in Arkansas has been a dead topic for years now but the natural state just gained a lot of traction in that department. On April 11th, 2017, Arkansas governor Asa Hutchinson signed bill H 2250 in front of congress. Arkansas state bill H 2250 regulates and legalizes the paid-entry of daily fantasy sports in Arkansas. They are now the tenth state to enact such a bill and the first of 2017.
The Senate approved the bill by way of a 25 to 5 vote after the house approved the senate version of the same bill 85 to zip and before that a 69 to 3 vote. The bill went through all of these votes due to it being amended and sent back to the House to be agreed upon. The overwhelming way results of each vote made it pretty clear that it would finally be passed.
It includes the taxation of daily fantasy sports sites like DraftKings and FanDuel, which will be 8 percent, so the state will benefit greatly from this new law. The main reason that this law was passed was because the Senate believes daily fantasy sports are a game of skill, though, many others believe it is a game of chance. This is due to the notion that it's impossible to predict a player's statistics in a given NFL game.
This is a big step for sports betting in Arkansas, not only for daily fantasy sports in the state but for legal fantasy sports betting around the country. This could continue the ripple effect that began in 2016 after 10 states legalized fantasy sports. Hopefully, states will start to realize the benefits associated with making fantasy sports betting legal and become more open minded.
States are hunting revenue like daily players hunt sleeper picks and it's no wonder that more states are looking to collect taxes on fantasy sports. With the explosion over the past five years states have been left on the outside looking in as fantasy sports have generated billions of dollars. This was no going to continue for long much in the same way states have been scrambling to get pot laws on the books.
The other states that provide legal fantasy sports betting include New York, Massachusetts, Colorado, Indiana, Tennessee, Missouri, Mississippi, Maryland, Kansas, and Virginia.
Best Arkansas Sports Betting Sites - 100% Trusted + Safe
| | | | | |
| --- | --- | --- | --- | --- |
| | | 50% Up To $250 | VISA + Wire Transfer | |
| | | 50% Up To $1,000 | VISA, Bitcoin, Cash Wire | |
| | | 50% New Member Bonus! | VISA, Bitcoin | |
| | | 125% Up To $3,125 | VISA, Bitcoin | |
| | | 100% Up To $300 | VISA, Bitcoin | |
| | | 50% Up To $1,000 | Bitcoin, Wire Xfer, VISA | |